Armored Cars: Unbeatable Protection with Bulletproof Glass and Michelin PAX Tyres

& More
Armoring Kit for Civilian Armored Vehicles
Shell in the shell technology, A complete Solution to Armor Sedan Cars, SUV, Passenger VIP Vans, Pickup Trucks, Coasters and Buses. Our Armoured Kit provides highest Protection Level against attacks, from weapons and explosives. Dynamic Defense Solutions Armoring Kit Includes.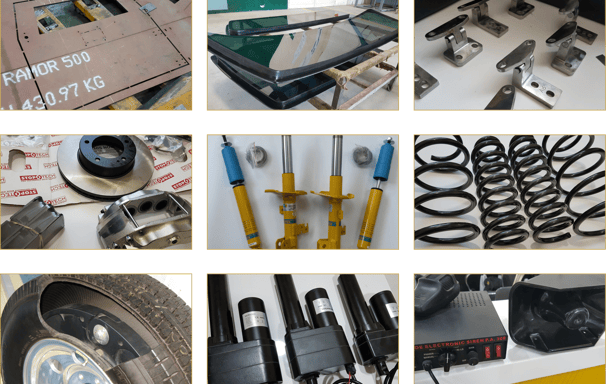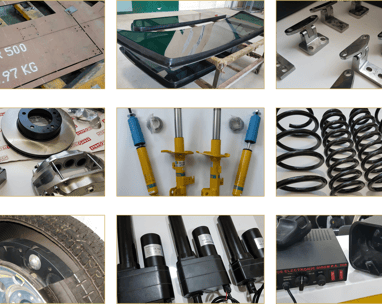 Laser Cut to Size Ballistic Steel Set

Armored Steel Plates

Bulletproof Glass Set

Heavy Duty Door Hinges

Upgraded Shock Absorbers

Heavy Duty Coil Springs

Performance Slotted Brake Rotors

Ceramic Brake Pads

Heavy Duty Wheel Assembly

Runflats System

Heavy Duty Tyres

HD Door Glass Lifters

Consumables & Fasteners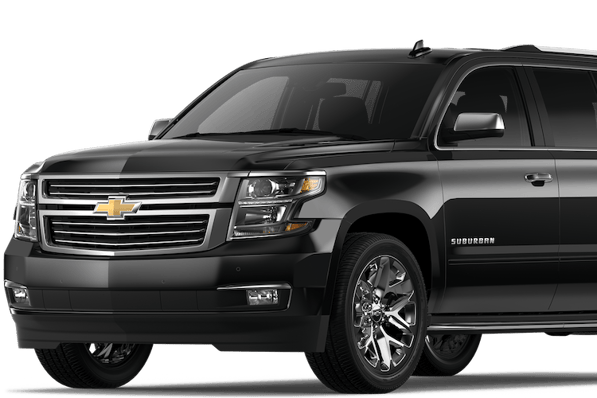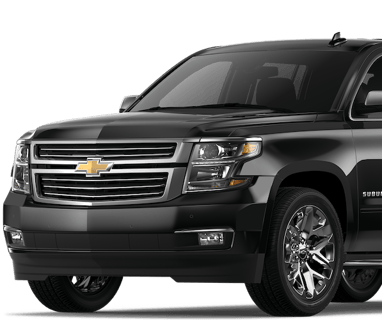 Armored Car Ballistic Steel Set Cut to Size
Opaque Armoring using Certified Ballistic Steel​, Cut to Size 4mm to 14.8mm. Precise and Ready to install on vehicle, One Piece ABC Pillar, One Piece Windshield Frame, Large ballistic door frame overlaps, Vehicle Battery and ECM protection, Steel case fuel tank protection, Engine bay flank armor protection.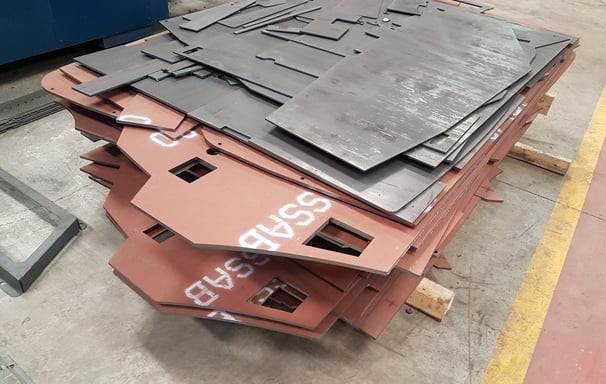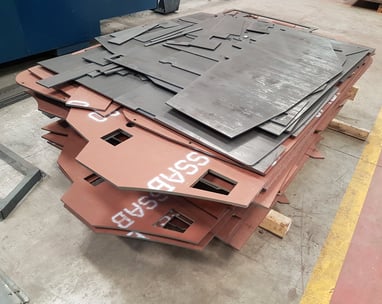 Ballistic Steel Sheets for Armored Vehicles
Ballistic steel sheets are high-strength steel plates specifically designed to provide maximum protection against ballistic threats. These sheets are used extensively in the armoring of armored vehicles such as VIP Sedan Cars, Luxury SUV and VIP transport vehicles. The steel sheets are made by using specialized techniques that provide them with exceptional hardness, toughness, and durability. They are also capable of withstanding multiple hits from high-caliber projectiles, explosives, and shrapnel.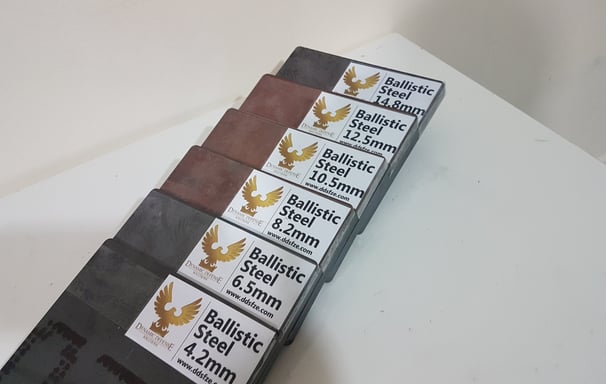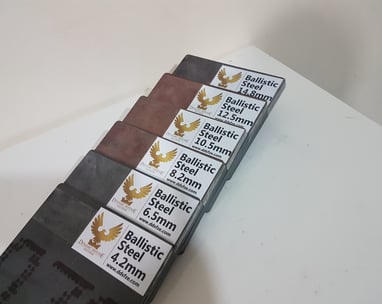 Bulletproof Glass Set
Bulletproof glass is an essential component of the armoring process of cars. Armored cars, also known as bulletproof cars, are designed to provide maximum protection to their occupants in the event of an attack. The use of bulletproof glass in armored cars provides a high level of protection against bullets and other ballistic threats. The glass is made of multiple layers of glass and polymer materials, which are laminated together to create a strong, impact-resistant barrier. The thickness and composition of the glass can be customized based on the level of protection required, and it can be designed to resist multiple rounds of gunfire. Our Glass Features.
Meets or exceeds levels EN 1063 & STANAG 4569.

Multiple impact protection.

Anti‐spall shield protecting against shattering glass.

Finest optical quality offers minimal distortion.

Two Years Warranty.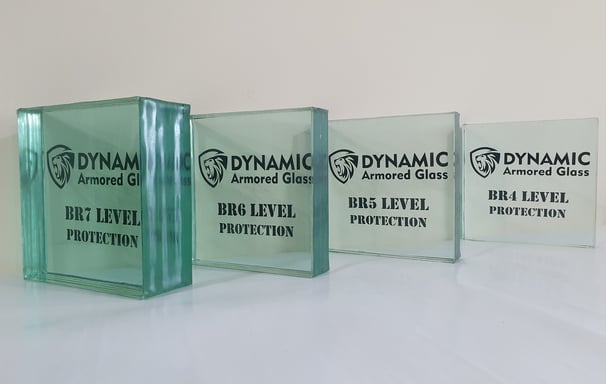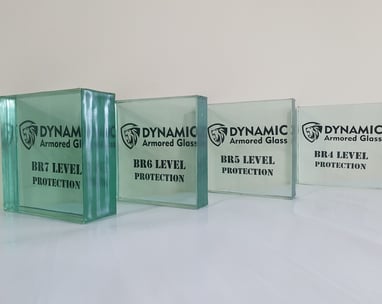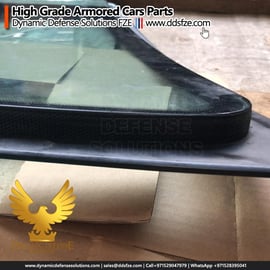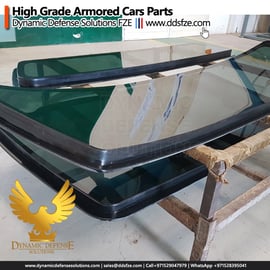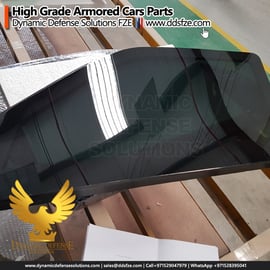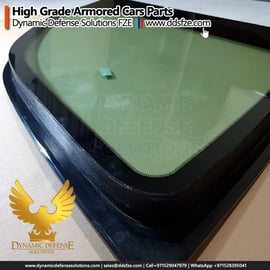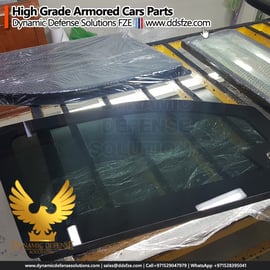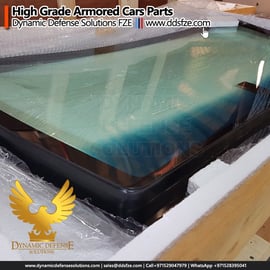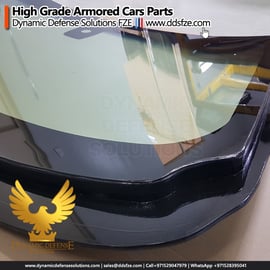 Heavy Duty Door Hinges
CNC Heavy Duty Machined Hinges for Armored cars, specially engineered for variety of Armored vehicles to carry heavy weight for Armored Door up to B7 Level. Our Reinforced door hinges for Armoured Vehicles and stretch limousines on high-quality CNC lathe, 4 and 5 axle turning lathe and milling machines made of high-value steel.​​​​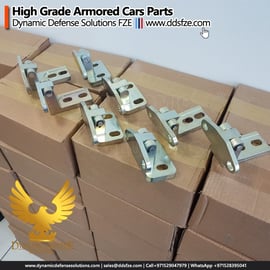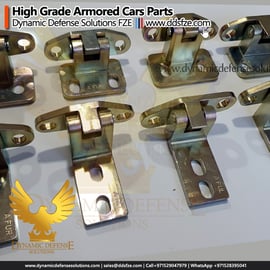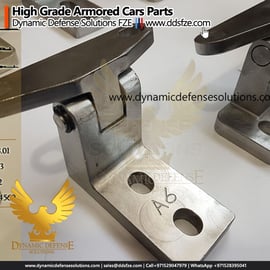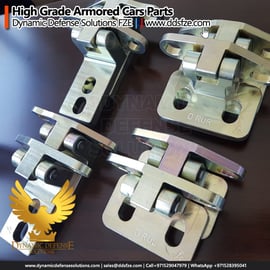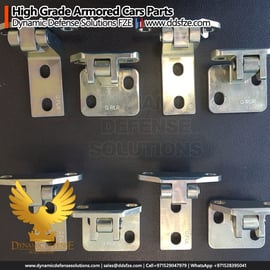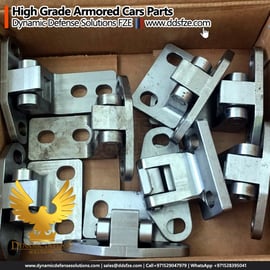 Upgraded Suspension Parts
Quality, Application specific, aftermarket suspension designed to increase load carrying capability and improve both Armored vehicle handling and comfort across all terrains, whilst providing increased ground clearance to better tackle more challenging terrain. Our Kit includes Coil Springs, Shocks, Sway Bars, Leaf Springs, Bump Stops, Rubber Bushings for Armoured Cars.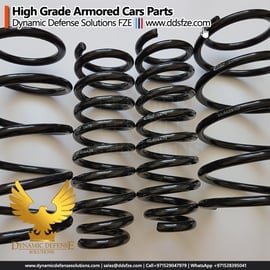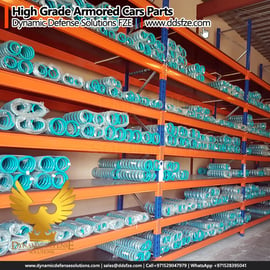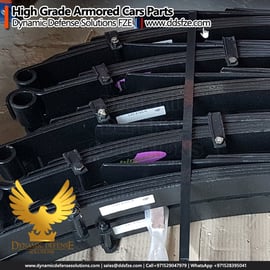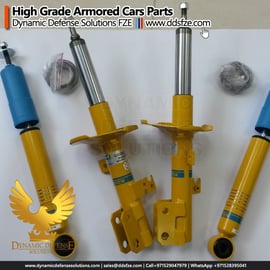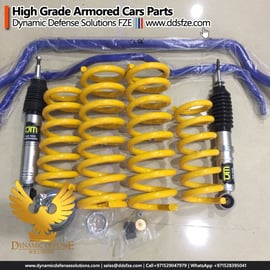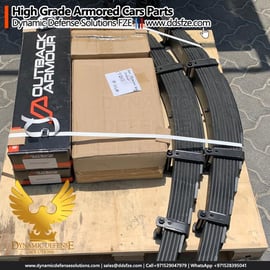 High Performance Brake System
Engineered and Tested Braking System on one of three Link brake dynamometers, on street and in the laboratory. Designed, Engineered, and built to offer significant braking advantages over OEM parts. Available in Slotted, Grooved, Dimpled designs Rotors with Ceramic High Performance Brake Pads, 6 Piston Calliper, 4 Piston Calliper and Steel Brake Lines.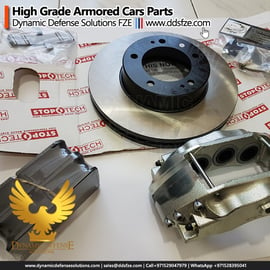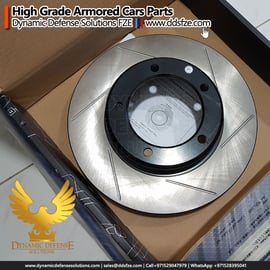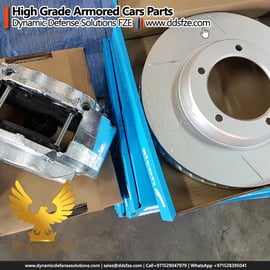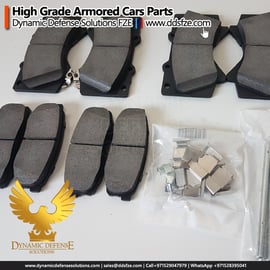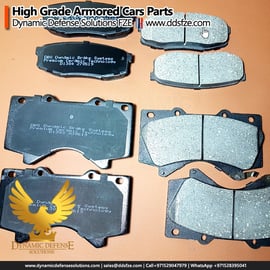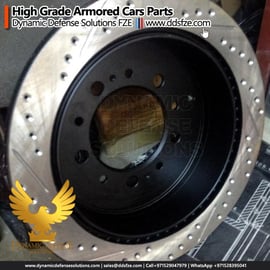 Heavy Duty Tyres & Wheels
Our wide range of HD Tyres covers Michelin, Continental, Cooper, BF Good Rich Brands for Commercial and Civilian Applications. The best solution to absorb heavy weight of Armoring is our recommended Steel Wheels, having load capacity of 1650+ kg.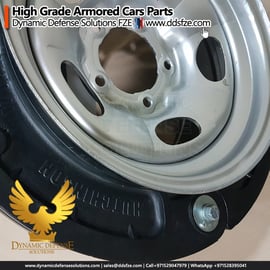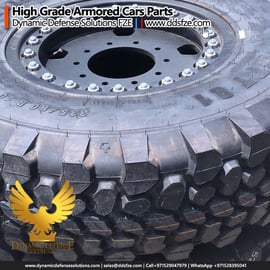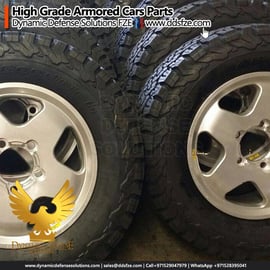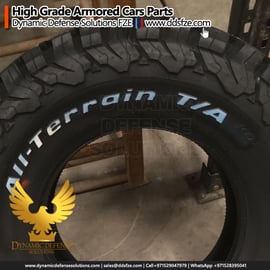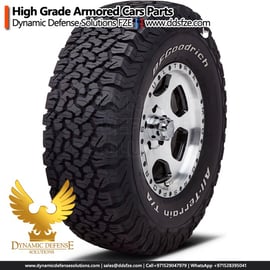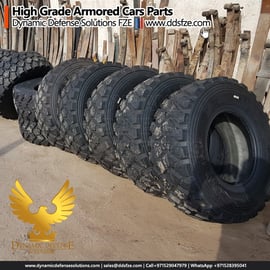 Runflats System for Civilian Armored Cars
Our Tyre inserts are designed to provide extended mobility when one or more tires are deflated. The Runflat is made from a specially formulated lightweight, high strength compound designed to resist crack propagation from ballistic attack and severe road hazards.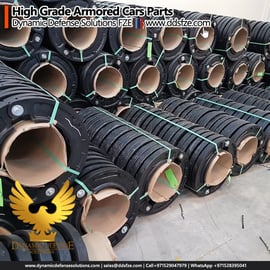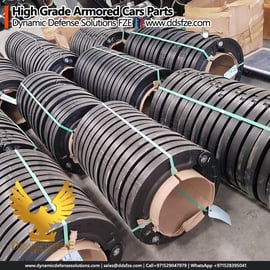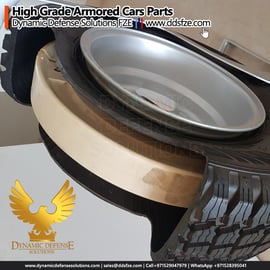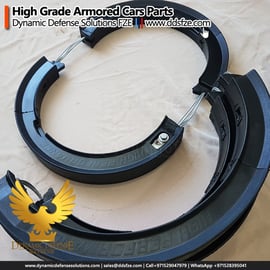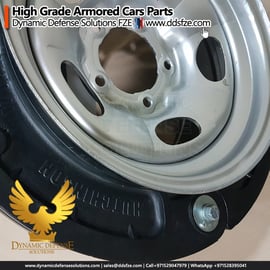 Michelin PAX System
One of our Premium Quality Products for High Level Mobility Solution, Michelin PAX System for Armored Mercedes Benz Guard, Maybach, BMW Security and Audi D3 Cars an effective compact safety solution. System Includes Tyres, Alloy Wheel, Support Backup Ring, PAX Mounting Gel Kit, Tire Pressure Sensors and Valves). Available Sizes 255-720-R490, 245-700-R470, 235-700-R450, 245-710-R490.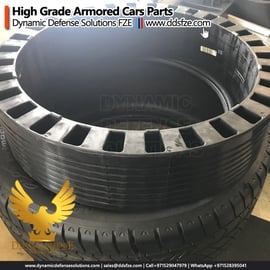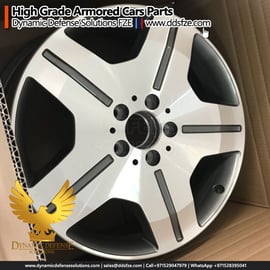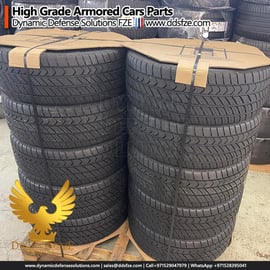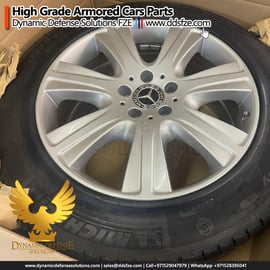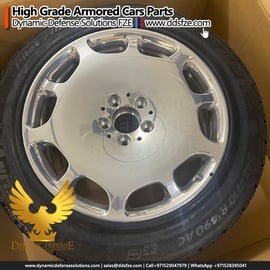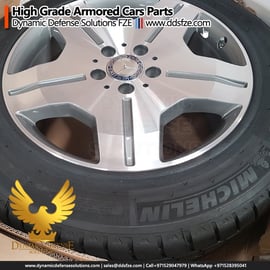 Heavy Duty Door Glass Actuator
Designed and Engineered for Lifting Very Heavy Door Glass of B6 & B7 Level Armored Vehicles, Technical Specs as follows.
Stroke: 90 to 150mm

Speed: 11 to 20 mm/s

Voltage: 12VDC

Load: 1000 to 2000N

Standard: Waterproof IP65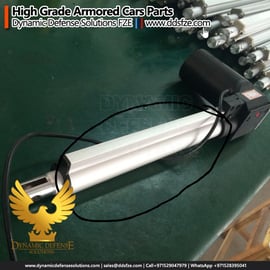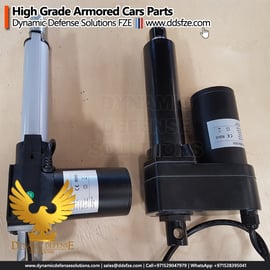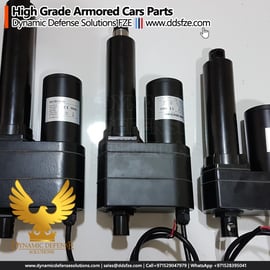 Ballistic Steel Gun-Port for Bulletproof Glass
An Effective Engineering Solution to keep safe, Cutting edge Technology, suitable for Transparent and Opaque Armor. Fit for all shot guns and assault rifles. Our Gun port for Armored Cars can be installed in Civilian Armored Vehicles, Cash in Transit Vehicles, Guard Posts located in borders, Conflicted Area and High threat locations.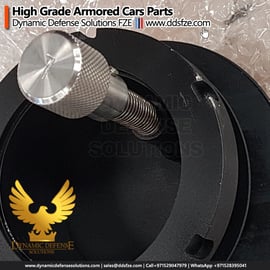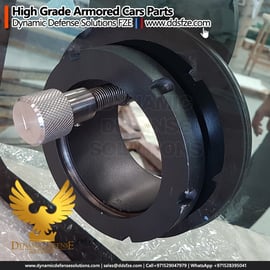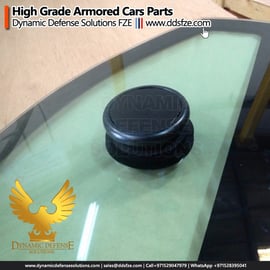 Armored Car Accessories
We have wide range of Line items which are required for Armoring Process, It includes Bulk Head Door Lock Set, Bulk Head Door Hinges, Carpet Rolls, Vinyl Sheets, Public Address Systems, Inter Communication Systems, Police Lights, Strobe Lamps, Bull Bars, Side Steps and many more.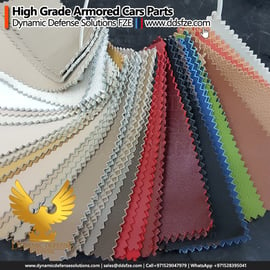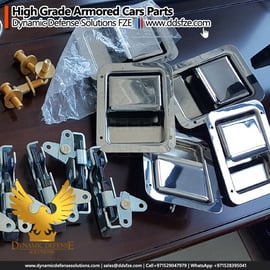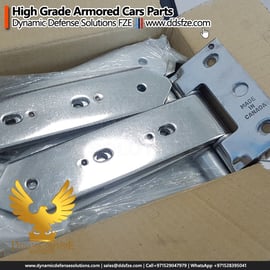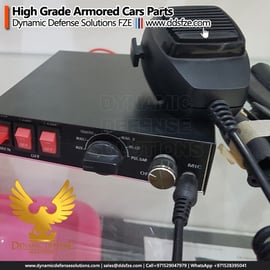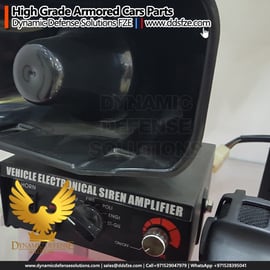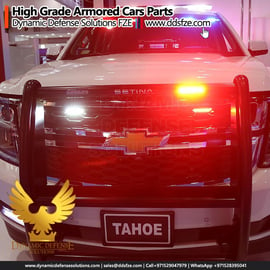 Dynamic Defense Solutions FZE
YOUR TRUSTED PARTNER FOR PREMIUM QUALITY ARMORING SOLUTIONS